Chicken Lollypop: A Restaurant Review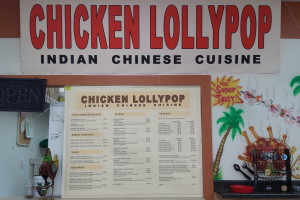 Austin is a city where you may chance upon delicious food in the most unexpected places. Chicken Lollypop is one such hidden gem. Located inside a food mart at E Braker Lane, this inconspicuous restaurant specializes in Mumbai-Style Indian Chinese cuisine, something which is rarely found in Indian restaurants in America.
I came across this place when I used to volunteer at Buckner Hospice, literally next door. The first day I just passed by it; I didn't realize that it has the same entrance as the food mart. After some research on Yelp and hearing good reviews from my colleagues, I decided to give this place another chance. And I am so glad I did.
I ordered their signature dish, chicken lollipops, which had just the right amount of spices, it was very tender but crispy on the outside. I became a fan instantly.
I also loved the naan wraps — Chicken 65, Chicken Shezwan and Paneer Shezwan. The portions are big and the spices are unique. There are just two tables and a few chairs there, but there is no dearth of customers, some ordering take out, some eating there.
But the best part of this little eatery is Chef Immie.
He is passionate about his food and takes great care in not only cooking the dishes, but also in packing your to-go box. It is a delight to talk to someone who is so involved with every aspect of the restaurant and has the customer's best interests in mind.
Once upon a time, during my stint in The Asian Age, I used to write food reviews, among other feature stories. On my last day at Buckner Hospice, I couldn't help but take Chef Immie's interview. Old habits die hard, but this is one restaurant worth writing about. If you are in Austin, do give this place a try!
********
"Our chicken lollipops are the best in the world": Chef Immie, Chicken Lollypop
Q. Tell us something about yourself and how you established Chicken Lollypop.
A. I was born in India and always had a passion for cooking good food. While growing up, I used to observe my mother in the kitchen and learned how to use the right combination of ingredients. Even back then I wanted to be a certified chef and own a restaurant one day.
When I came to the US in 2007, I fell in love with the city, Austin. Here I saw an opportunity to use my knowledge of Indian-Chinese cuisine and create food with love and healthy ingredients because that is what Indian food is all about. That's how I started Chicken Lollypop.
Q. What are your most popular dishes?
A. Our most popular dishes are chicken lollipops, Hot and Sour Soup, Chicken 65, Chicken Manchurian, Chicken Shezwan Naan Wrap and different kinds of Fried Rice. We do not use any MSG in our food and make everything fresh.
Q. What is special about your chicken lollipops?
A. Our chicken lollipops are the best in the world! I have played around with different combinations of spices and have finally created a recipe which I am happy with. Its popularity is evident in the fact that is our most ordered dish –It is tender, moist, flavorful and people keep coming back for more!
Q. What are your future plans?
A. Chicken Lollypop will continue to do business. But we are going to open two more eating joints within a year – one is a Pav Bhaji place and the other will serve "Indian Pizza." These will only have counter sale and no seating arrangements. I am training more people so that we can maintain the same quality that we take pride in.
Q. Can you elaborate about these interesting dishes?
A. Pav Bhaji, especially the Mumbai-style one, is a very delicious dish. At Chicken Lollipop, we had Pav Bhaji on the menu and even used to make our own traditional pav or bun. But in Austin most customers are not aware of this dish and we did not see much traffic. Since it was leading to wastage of fresh food, time and money, we took it off the menu. But with this new Pav Bhaji joint, we plan to popularize this dish so that everyone can enjoy and savor it.
And Indian pizza is pizza with an Indian twist. We will use marinade, chutneys and sauces with Indian flavours, and for toppings we will have paneer, kababs, chicken tikka, tandoori chicken and chicken 65, and a gluten-free option. We also have Pav Bhaji Pizza, where the bhaji or vegetables will be the topping, with chopped onions and lemon slices on the side.
Q. What is your main philosophy of cooking?
A. My goal is to always serve food with love, care and maintain good quality consistently. I would rather give bigger portions and make my customer happy than save a few cents. Although Chicken Lollypop does not have a restaurant-like ambience, it has become popular primarily due to loyal customers, their word-of-mouth comments and Yelp reviews. I want to keep cooking with passion and serve good food to my customers.
********
Address: 1005 East Braker Lane Suite # 3
Inside Braker Lane Food Mart
Austin, Texas 78753
Phone: (512) 998-4328
Facebook Page: https://www.facebook.com/pages/Chicken-Lollypop/619479071400593?fref=ts