How to bake a cake with a flat surface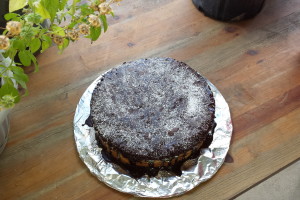 One of the most frustrating things about baking is when you want a cake with a flat surface, but instead get a dome shaped one. This has happened to me many times, where the center of the cake swells up and also forms cracks in the middle. Although there is no difference in taste, the odd shape creates problems while apply frosting or cutting layers.
If you are using a tube pan, bundt pan or detachable tube, this problem can be avoided. But what if you want a regular round cake or bake even layers?
There are a few tips you can follow to minimize or completely avoid the dome shape. I follow this simple technique which costs nothing and always gives me great results.
Take any regular dish cloth or cut strips from an old towel. Lightly soak it in water to keep it damp. Once you have poured the cake batter into the cake pan, wrap this dish cloth around the cake pan like a band. If your dish cloth is not long enough, use two of them and tie a piece of string to secure them.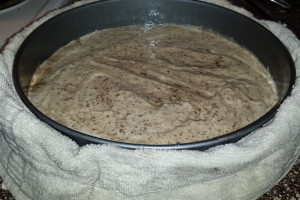 The damp strips keep the sides of the pan cooler and helps with even baking. That's all you need to do!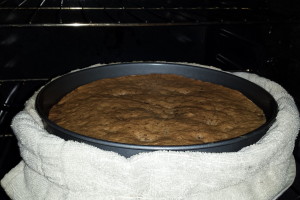 Bake your cake following regular instructions and remember to take out the pan carefully later. The surface of your cake will remain smooth and flat. Now you can cut it into layers easily, without wasting any cake, or use it directly and apply frosting.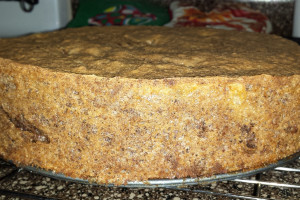 Some companies sell these bake even strips in stores and online, so you can buy them too. But with so many dish cloths available at home, I don't feel the need to spend any money over this, especially when the results are great every time.
P.S. Today is my dad's birthday and I baked a chocolate chiffon cake.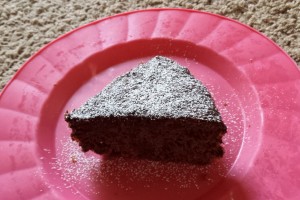 This is my favorite chocolate cake because it is light and fluffy. Instead of using a vanila frosting, I melted some baking chocolate with butter and smeared it all over the cake.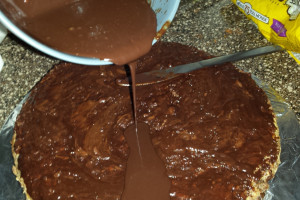 I let some of it drip on the sides to give a pretty effect, and sprinkled powdered sugar on top. All this is optional, so feel free to experiment based on what you like.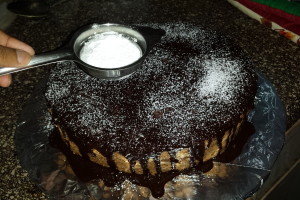 Do try the dish cloth method and be amazed to see a cake with a flat surface every time!